Salus Services Limited is a small independent consulting and training firm specializing in health & safety, occupational hygiene, and related engineering services. We are currently looking for technically skilled, practical, and motivated health and safety professionals in the following areas.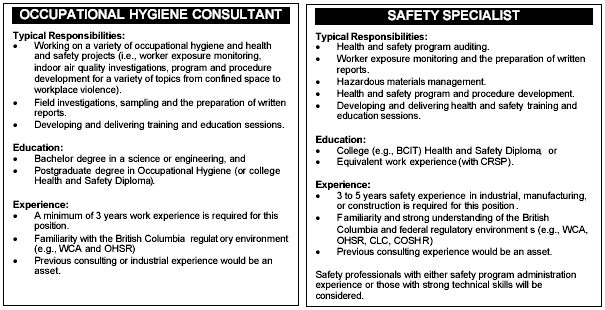 Both positions require individuals who are well organized self-starters, who work well both independently and as a member of a consulting team. Individuals must have strong interpersonal, communication and time management skills. Strong written communication skills are a must (ability to write clear, concise reports and other correspondence) and good computer skills with familiarity with Microsoft Word, Excel and PowerPoint. Prior experience in developing educational and training materials, and above average training and education skills are also required.
These positions are located in Surrey and require a vehicle and the ability to travel to client sites within the Lower Mainland, with occasional out-of-town travel. These are full-time permanent positions (with benefits); remuneration will be based on the selected candidates' level of education and experience.
If you are interested in becoming a part of a multidisciplinary consulting team, please mail or email your resume (complete with cover letter) in confidence to:
E.W. (Ev) Carefoot, P.Eng., CIH, CRSP email: ecarefoot@salus.bc.ca
President / Senior Consultant
Salus Services Limited
208, 13281 – 72 Avenue
Surrey, British Columbia
V3W 2N5
A pdf copy of the career opportunities can be found at the following link:
Information added: August 23, 2005